Dan Colen
In this episode, we speak with New York-based artist and Sky High Farm co-founder Dan Colen about his layered approach to autobiography, the benefits of working in unfamiliar territories, and how farming might be reframed as a creative practice.
Podcast produced by Ryan Leahey
Original theme music by Kasper Bjørke
Photographs by Clement Pascal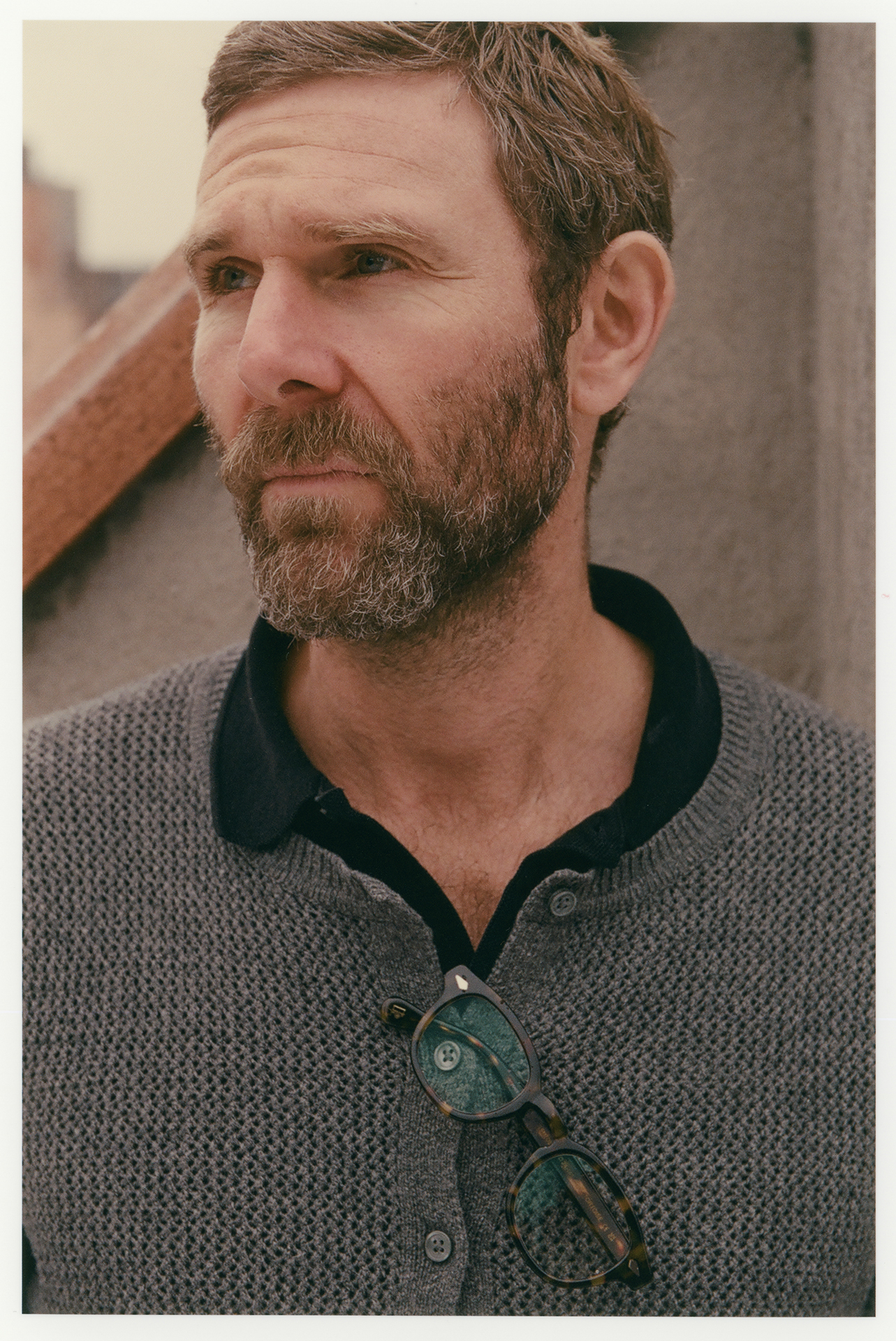 Christopher Schreck:
What's up, Dan? How are you?
Dan Colen:
Good. How are you doing?
CS:
Doing well.
Landon Metz:
How's it going? Are you stationed in the city for a minute while you wait for a baby?
DC:
Yeah, but I mean, it's just a few more days and then we'll head upstate. The due date's on Saturday, so very soon.
LM:
Wow, very cool. How are you feeling?
DC:
I feel pretty good. Actually. No, anxiety, really.
LM:
Yeah, dude. It's a big transition, but it's a beautiful transition. It's amazing.
DC:
Yeah, I'm excited.
CS:
So maybe we can start with the show at Gagosian? The exhibition features paintings from your ongoing "Mother" and "Woodworker" series, but it also includes sculptures by your father, who's a self-taught wood carver. It'd be interesting to hear how these ideas of familial relations and ancestral influence were playing out in your mind as you composed the show.
DC:
Well, I've been working on the paintings in the show for a lot of years; it's been evolving over the last decade or so. I really started thinking about this work about thirteen years ago. It came in a moment where my world had been turned upside down, and I think those feelings drove me to start thinking about trying to depict or even just consider the human desire for stability and comfort—the instincts that we have that move us in that direction, and maybe the instincts that we have that move us in the opposite direction. A really close friend of mine had just died, and he left behind his daughter, who was very young at the time and has been a big part of my life for her whole life, but I think my consideration was around how she might reestablish a kind of kind of stability after the loss of somebody so significant and influential in her life. I think that was really the starting point for it all: the concept of "mother" became a kind of stand-in for the searching for security, safety, comfort. I think it's an endless cycle that we go through over and over again: we find a moment of comfort, and then, obviously, turbulence comes back around. I just like the idea, the challenge of moving away from our mothers (or the people who raised us or brought us into this Earth) towards a person or a group of people who help bring forth more life or more cycles of life with you. That was the starting point, this concept of "mother" and this search towards mothers, towards these stable, soothing places, people, and moments, and how complicated that is. Not all mothers, not all homes are soothing or are safe, and often we move towards a place that feels soothing and safe, and we open our eyes and realize that's not where we are, you know? So it's very much about that reality.
And then, to get into the technical aspects of the work, I want paint to have a relationship to the themes that I'm exploring with it, to the concepts I'm exploring. That's always important for me, that the thematics and the process and materiality all converge to share a kind of cohesive offering or experience. All that said, painting for me is first and foremost about paint, not about narrative or thematics, but I use the thematics, I use these images, to create a framework for me to explore these concepts around. I do want the concepts to have some relationship to the materiality of the works, and in in a ten-year process of trying to get the paint to do what I wanted it to do, I leaned heavily on all sorts of different art historical examples, starting with the Hudson River School. For me, Disney is just an opportunity for me to take America on as another theme, to take that homeland of mine into the narrative and explore it as a theme. Disney's really just a kind of stand in for that fraught nature that is America, the American Dream. I essentially made the paintings through an accumulation of quoted marks throughout art history—again, just leaning into influences, leaning into the predecessors that helped shape me, that have led my path, in the same way that I was thinking around this theme of searching towards ourselves through the influence of those that we've come into contact with.
CS:
These varieties of application for the materials, these quotations—are they legible as such in the paintings? Is it important that they are? Can people kind of pick them out—"Oh, there's that style, or that particular artist's style"—or is it more about your process for creating the work?
DC:
I mean, I'm never trying to present anything other than the work itself. I'm always happy to talk about how it's come to be, but I feel strongly that the work itself allows for the most complete experience. I could take somebody through, and many people may be able to feel like there are certain marks that are more familiar than others. We do make direct quotations. The issue is that with the images I'm using from Disney, they're taken from cells and from stills, and they come with very image quality to them, and texture. So a lot of the early considerations were like, how do I create nuanced paintings? How do I create paintings with image texture, with real feelings of light and space at a scale, where it works in this still format? So, if I was looking at a picture with a lamp on a night table, and the lamp just had no material essence to the way it was depicted in the Disney still that I was working from, I would go through and look at still-lifes by Chardin and find a metal pitcher in one of the paintings and see how he painted the highlight and really try to actually take that and replicate it. That's not only on materials like wood or fabric, but also when looking at phenomena like light or luminosity and atmosphere, those kind of things.
CS:
So with the "Mother" paintings, it sounds like they're pointedly not about your mother—at least not exclusively—and more about ideas of home, these touch points between evolving phases. But then the paintings are complemented in the show by these wooden carvings by your father. That seems more readily understood as being directly personal, but I'm not sure if that's true. What was your thought in combining those two bodies of work?
DC:
Well, the three bodies of work, because the other paintings are the "Woodworker" paintings, and those are more direct portraits or kind of odes to my father. With the "Mother" paintings, I reflect a lot on my own mother and my relationship to her and the other mothers that I know. There are certain other mothers that I think are very important to this body of work. But with the "Woodworker "paintings, it was definitely a direct reference to my father, and I think for me that was interesting, just because as an artist, I'm drawn to exploring new modes of expression that can fuel my investigations and my practice, and it's kept the amount of traditional oil paintings I've done and completed to a limited amount. In the early phases of my career, I made a body of work that I call "Candle Paintings," and at the time, the trajectory of my practice, one thing that characterized it was these stages of willingness to reveal myself in it, to depict myself directly or tell my own story. I think as a student and in some of my earlier bodies of work, I really wanted to tell other people's stories, but I always kind of toyed with my presence, and I've come in in the last twenty years to make some very blatant self-portraiture, but that has been that has been a process. So in 2003, I started these "Candle Paintings," which are depictions of the same place that the "Woodworker" paintings are depicting, which is Geppetto's studio, where he had the work table that built Pinocchio on. At the time, I never talked about my father being a woodworker and that direct autobiographical reference. I never imagined working on this body of work for as long as I have, and obviously, when I began, I didn't know that I would be bringing it to a conclusion with a body of work that I call the "Mother" paintings that deal with concepts around motherhood. So the opportunity to reconsider that tabletop and my relationship to it was really a big part of what drove me to do it. After having worked on this body of Disney paintings for as long as I had, I felt it was really important that I made it very, very clear that it was kind of a personal process for me: not so much one of pop cultural interests, but more that I used these very familiar images to explore something that was very personal to me. So the decision to make that final body of work, the "Woodworker" paintings, and then eventually to include my father's sculptures was really all part of that that lengthy process of revealing myself, I guess, within these works.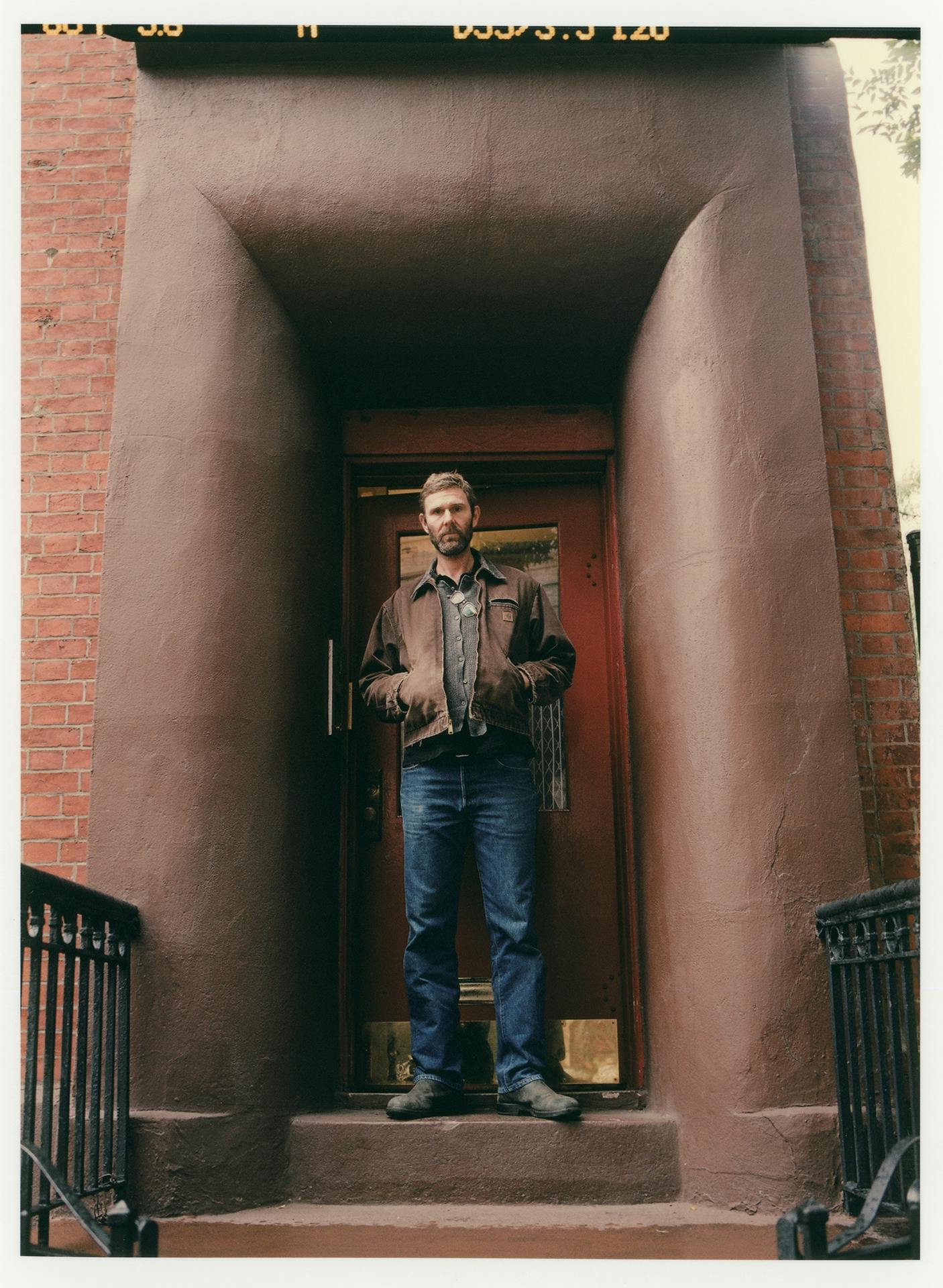 LM:
Does any of that reflect on your own personal studio practice? Being an artist can be a means of translating or metabolizing your experience in the world around you. Is the studio itself a place of security and safety for you? Do you find that there is a direct correlation between the depictions of Geppetto's studio and your father's studio, but also your own studio practice as an artist?
DC:
Yeah. I mean, I wouldn't call my studio a place where I feel any safer than anywhere else. The studio is a place where I challenge myself. It's where I challenge my notions of who I am, of what my values are, what my priorities are, and I want it to feel precarious. I don't want to feel comfortable. And I think that's reflected in in what my father's studio was, and what that early example was of an artist. I mean, I don't think my father was introduced to the world of modern art until he was a full-grown adult. Somebody took him to the MoMA, I think when he was in his 30s. He grew up in Brooklyn and really had no access to that type of culture, and I think he had a revelatory experience at the MoMA. Then, within the next few years, I think the story is that in Central Park, he happened upon a whittling class or something like that. One person had a chisel and a hand mallet and he was drawn to it. He asked the guy to use it and he loved the feeling of it. He found that electrifying. But anyways, the sculptures in the show, there's a pregnant woman, and it's my mother pregnant with me. That's the first sculpture he actually ever made. So he never made any art until I was born, basically, or was about to be. So his studio was in our driveway, and it only existed in the spring and summer months. We had a cinder-block wall and he would chisel on this wall, basically for a few hours on Saturday. The sculptures would take him years to make, because he had such limited windows of doing it. I would not only watch him chisel, but he would also go to the library in kind of obsessive ways and bring home stacks of books on art. Really, what I was watching him do was try to wrap his head around what it meant to be an artist, to watch an artist struggle with trying to understand who they are and what their purpose is and what their responsibilities are. I think that kind of helped shape my studio practice and the way I look at being an artist, which is to constantly challenge my understanding of what my purpose is, what my priorities are.
LM:
Do you believe in a singular purpose for the practice, or is that just an ever-evolving question?
DC:
No, it's an ever-evolving question. I mean, I kind of like to set flags in the ground that I can compare and contrast, different explorations, so it's not nebulous, in a way. I like there to be opportunities for me to reflect on and set comparisons. But no, it's more of an ongoing journey. I'm really interested in experiencing different possibilities, and it's not easy for me to get to a place where I have to look at what I'm doing and say, "Is this art?" But that's definitely like where I want to find myself being—like, "I don't know if this is art!"
CS:
I remember reading somewhere that you considered the farm to be the most creative thing you've done in the past ten years. I feel like that also correlates to something I remember reading a while back, where you were talking about feeling like some of the best artworks that you've made have been the ones that don't immediately read as art, and how it's been a process of pushing up against preconceptions. So it might be interesting to talk about what it is to approach farming as an artist, and not to consider yourself a farmer or necessarily an activist per se. You're approaching all of this as an artist, and that's a pretty unique perspective to approach these things with.
DC:
Yeah. I mean, I went forward in life feeling like I didn't have many options of how to be an adult in this world. I grew up skateboarding and moved within a group of graffiti writers, and that was a very comfortable place. When I thought about how to be an adult, I think art seemed like my only option—and I still feel like that. So the idea that I'm doing anything other than that is a little absurd to me. I've only had whatever experience life has granted me; I haven't had any other education or experience in any worlds other than my own endeavors as a creative thinker and somebody who makes things and shares things. I think the simplest way for me to think about it is like, I'm an artist, and as an artist, my goal is to try to make things that I'm unfamiliar with—especially things that I'm unfamiliar with as artworks or as art. I want to find myself in a place where typically, somebody would say, "Well, that's not an artist. That's a (blank)."
LM:
How much do you afford yourself time to revel in a clearing? Because I think a lot of what you're doing is reaching these plateaus, and the journey towards that plateau seems to be quite uncertain and unfamiliar and unstable. Once you get a handle on a new medium or material or narrative within the practice, do you take any amount of time to congratulate yourself or just kind of feel satisfied? To that same notion, you had mentioned something earlier about growing up skating in this graffiti writing scene, I'm assuming in the city, but there was some comfort in that. I wonder, was that comfort being found in a notion of community and a shared creative gesture? Was there a desire at some point to transcend beyond that, or was that a form of reveling in a plateau? Was there this desire after that to continue to push, and was that an inward journey? Or was that just you translating your experience?
DC:
Well, there was a deep comfort in that group of friends and the way we spent time together. No, I think it's a good question. It's a kind of worthy aspiration to save some space to revel in in what has happened, as opposed to just a constant searching for something new, and I see that as a goal. It's something I value. I think you're onto something. I mean, my practice often encouraged me to move through, move past, move around those moments, but I will say that in the last ten years, and especially in the last five years, what I've learned is that those opportunities can and will come, you know? I think that art is long. It's really amazing to just be finishing this body of work now, after having begun it so many years ago, but I think that's totally appropriate, and in a way, it offers me that moment, for sure. This show offers me that moment in a way that a lot of my shows in the past haven't. Through the work with the farm, and in a few stages that we've managed to work through in the last few years, I've really had a lot of time to do that. I actually think that the symposium which we just hosted really gave me an opportunity to kind of revel in in the work that we've done, and the kind of culture that we're trying to help foster.
CS:
This was the symposium at the Judd Foundation?
DC:
Yeah.
CS:
Yeah, that was an interesting pairing for a few different reasons—one of them being that, in Donald Judd, we find this other example of a working artist who managed land and a related nonprofit, and who saw these various pursuits as being interrelated and didn't feel a need to necessarily resolve them or compartmentalize them. I think his and your respective bodies of work, in my mind, confirm this idea that one of the exciting things about what happens when artists enter unfamiliar spaces is that not only does it transform their practices, but it can actually transform the space that they've entered. I think, again, it's interesting to consider coming from an artist's perspective and entering into this new field, and whether there have been drawbacks, or even some unique advantages, by virtue of coming from an artistic background.
DC:
You know, the farm I can speak on retrospectively. It's hard for me to tap into what I was thinking in the moment, in the early in the early stages of creating that. But I mean, even listening to you quote me, and this idea of the farm being the most creative thing I've done in the last ten years, it's something I feel very sincerely. And by that, I don't mean "the most creative" in in any kind of grand way. I just don't think that I've brought anything else into the world in those ten years, or maybe ever, that was as new or unfamiliar as this entity and the function of this entity or the work that it does. But some of this stuff is hard to put in ways that I feel comfortable verbalizing.
LM:
Can I ask what it is about it that feels uncomfortable to articulate?
DC:
You know, most artists—I mean, I shouldn't speak for other artists—but as an artist, I think the idea that art could change the world as a young person was something that drew me in, that really fascinated me as a very, very young person. I was already dissatisfied with my small world around me: you know, I didn't like my teachers, I didn't like my principal, I didn't like the cops in my town, whatever it was. I didn't like some of the things I saw in the news when I got to that age. So the idea that I could do this thing that felt natural to me, and it could actually change the world that I lived in, was really compelling to me. That's how art was communicated to me. I think that's often communicated to young people, or maybe young aspiring artists.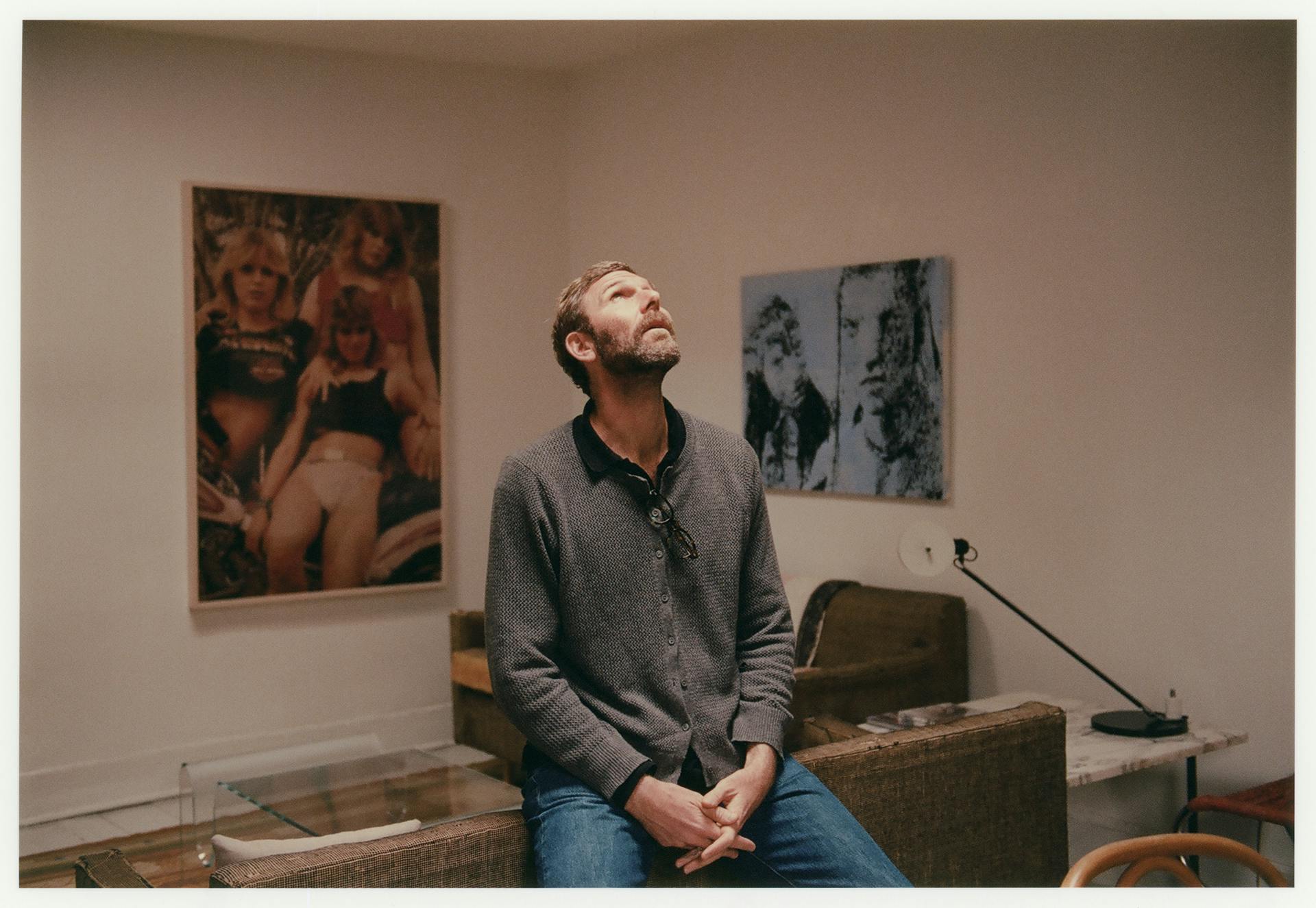 LM:
Dude, I would like to just jump in and let you know that in 2008, I dropped out of art school and in 2009, I moved to New York and I saw you and Dash and Ryan just totally transforming what I thought it meant to be an artist in New York. You made something seem possible in me. I'm being very earnest and real with you. But really, seeing the three of you exist in New York, and the way that you did it was a huge replacement for my education in art and kind of why I moved to New York. You made a lot of things seem very possible. So from that perspective, I think this desire for art to change the world, or even just inspire somebody, I can say I was directly inspired by what you guys made seem possible. You had your own vision, your own direction, you were doing it on your own terms, and it made it seem like there was a different way to reach those dreams than what was being prescribed to me in LA and art school. So for sure, dude, it worked. I'm part of that that history, for sure.
DC:
Well, I mean that means a lot. That's really very sweet for you to share that, and it does mean a lot. You know, Dash and Ryan did the same for me. Like, I experienced them in the same way that you did, and Kunle Martins, Earsnot, maybe more so than anybody else. When I met him, he just blew my mind; just the way in which he moved through the world was something that I had never seen before. But so many of the people that we rolled with really influenced me in that very deep way, and it was amazing. So that drove me, and as a young artist, I also felt that earnestly. I mean, it's such a wild thing to actually then go and set as your own aspiration, right? I think that that is where it gets a little tricky. Like, how hard can you actually try to do that? Can you just do that by being genuine and natural? And I don't think that there's an answer for that. I think that to make change and have impact, you do have to try, and there's a certain level of it that also can come naturally. But at a certain point, when the farm had established itself and what it was doing became clear to me, and the importance of what it was doing became clear to me… Again, I didn't know anything about those worlds or industries. I didn't know about the food system, I didn't know about agriculture, and I really didn't know about food justice. But regardless, this thing that I had created was having an impact in those worlds very specifically, and those worlds obviously resonate into all sorts of things, from health to education to socialization. So to see that brought me back to that very early intention, of saying art can actually have an impact.
I have utter confidence in art's ability to transform and inspire, but I also have a lot of anxiety around the market's influence on the object or the experience. And I'm a part of that: it's a complicated part of my creative process, and my career and my work have been affected by that, both in very intentional ways from my point of view as a kind of protective mechanism, but also in ways that are far beyond my control, where the market literally influences my creative process in ways that I rather not if I had the ability to actually see everything. So for me, once I was able to wrap my head around the farm and understand it as a very integrated part of my creative practice, I saw it as an opportunity to do something that I couldn't in my studio practice. And now I've really come to see it as, like, it wasn't coincidental, right? I had moved through the art world and ended up in this very specific corner of the art world, and that was something that I have immense gratitude for, because it gave me so many opportunities, but I also found it very limiting and kind of oppressive in certain ways. So I think I needed to carve out another space for myself to think and create, and that's really how all that happened.
CS:
Yeah. The way you navigated things—again, not having a background in agriculture or advocacy or whatever else—it seems like it was more a process of gradually becoming aware of an issue that resonated, taking action at whatever scale made sense at the time, and building it up from there. For me personally, that's been the part that resonates most. I think it's really admirable, but it's also really instructive. A lot of people, I imagine, feel strongly about different problems that they see around them, but most fail to act because they somehow feel unqualified, or they feel incapable of making a meaningful impact, however defined. But I wonder if those are feelings that you had to navigate along the way—to overcome imposter syndrome—and then, if so, how you finally found the confidence to move forward and take action?
DC:
[Laughs] Yeah. Yeah, definitely. I founded the farm in 2012, and there was a lot of insecurity and anxiety along the way. I think "imposter syndrome" is definitely a good expression. Just to go back to Landon's question around what the experience of spending time with my friend group in the early 2000s was offering, I think none of us felt like we were where we were supposed to be. None of us felt invited or certified, like we were in a place where we felt comfortable or at home. So when we were together, that feeling of feeling unfamiliar or alienated was resolved. We felt at home, at peace, in harmony, in a way, and that inspired that group of friends. They all came with different baggages, different qualities, and I learned so much from all of them. As an artist, something I've really come to embrace in my practice is having to move forward without knowing what the result will be. For me, making an artwork is that: it's like, I have an idea in my head, but what exists in the world and what exists in my head will never be one. There's not an inevitable outcome in pursuing one of my ideas or that aspiration towards an artwork. It's always an exploration. So definitely, working in a space where I don't have the answers, where I don't know, where I don't feel comfortable, and entering spaces where I don't have the credentials to actually be actioning things or making decisions or having opinions, is something that I think is a part of my process. I mean, I see failure as just as generative as not knowing. So the friends that we're talking about are still my closest friends (the ones that are still with us on this Earth), and that's amazing. But what I was also able to do in in creating the farm was meet all of these other people, and I think there's an incredible amount of anxiety and fear in the process of making those relationships and meeting those people and finding the right people who would tolerate me or listen to me, given my background. And you know, some of these people are just some of the most wild, interesting people I've ever met in my life. The lessons that I've learned from my co-founder, who's a public health professional, who's like the opposite of me in almost every single way, is something I can't speak enough about. Having that dialogue with somebody who's probably the least natural person for me to be in dialogue with, the outcomes of what happens when you go into those kinds of conversations are the most surprising thing. That's where the creativity came into it, I think. I was having conversations with people I never should have, so the output was something that was very unlikely.
LM:
It also requires a lot of humility, to be willing and accepting to learn from new people and to admit that maybe you don't have answers for all these questions.
DC:
On a good day. [Laughs] I mean, my ego is raging. But of course, of course. I would have run off a cliff a long time ago had there not been any kind of balance. But that's the goal, is to tap into that.
LM:
Are there any questions that you for sure know you have answers for that you believe in?
DC:
Shit. I mean, there's got to be, but it's definitely also just not my priority. Right now, I feel some sort of a certainty around what my girlfriend and I have created together, and bringing a life into this world. I feel like there's some sort of innate knowing in that, this deep intentionality in that, but at the same time, I probably know the least there. As a young artist, I think what fueled me or what drove me was this attention to a balance between doubt and faith. That's what I thought like as a young artist; I would have said that the creative process is the outcome of the struggle between those two qualities. Knowing is really important, and the feeling of knowing and actually knowing, the distinction between those things, is really important, but wouldn't hang my hat on that anymore. I really want to work in the space between those two things, but I think that it's not as simple as that dichotomy. I think that those two forces are very powerful, but there's a lot in-between and around those things that is different than either of them. But yeah, the experience of feeling like we know is just as important as the experience of feeling like we don't, I think.
LM:
Do you believe in believing in things? Do you believe in belief?
DC:
[Laughs] Yeah, I'm sure. We might not mean the same exact thing, but yeah, I do. Faith is an important part of my daily momentum.
LM:
Faith in the sense of hope, maybe.
DC:
Yeah. I think they can be close. I mean, we could get into conversation around those two ideas. But yeah, faith that I don't know if everything will be good, but that everything will be as it will be, you know? That will give me what I need to do what I need to do. I'm hopeful that better things can come. I'm hopeful that there are solutions that we can't see yet, hopeful that there's all sorts of amazing stuff that we can't see today.
LM:
Seems like a nice place to start parenting.
DC:
Yeah, definitely. I mean, I'm not in control, right? I guess that's the motto I want to bring into parenting.
◆