Hayden Dunham
In this episode, we speak with artist/musician Hayden Dunham about the relationship between the physical and the immaterial, the transformative power of pop music, and art's potential as a toolkit for building new worlds.
Podcast produced by Ryan Leahey
Original theme music by Kasper Bjørke
Photographs by Alec Vierra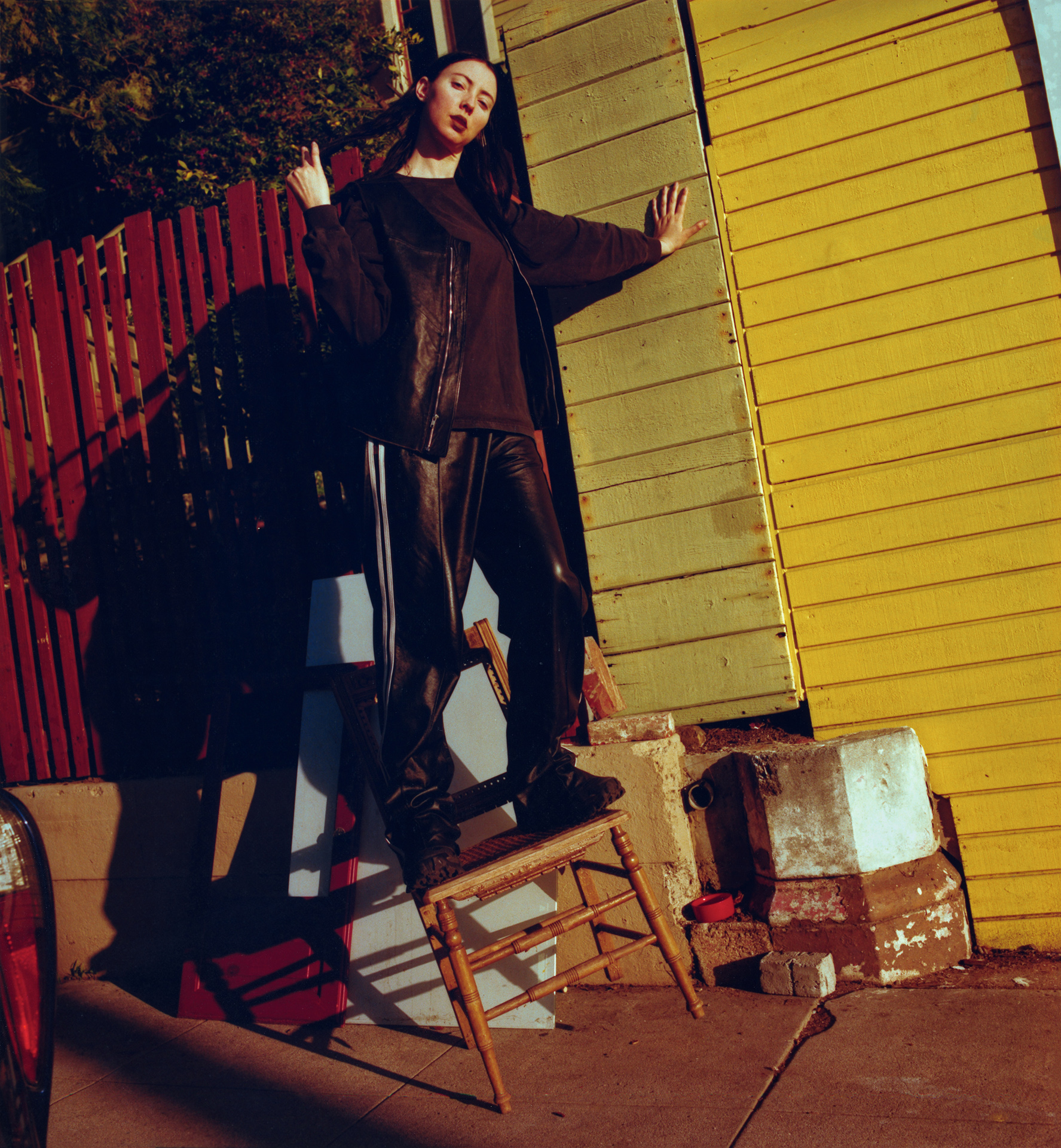 Landon Metz:
Hello! How's it going? The new video [for "Fallen Angel"] just came out like an hour ago.
Hayden Dunham:
It did, it just came out.
Christopher Schreck:
I watched the premiere, it's beautiful.
HD:
Oh, thank you so much.
CS:
It was also great to see some familiar names as far as your collaborators go—not just musically, with A.G. [Cook] and Sophie, but also people like Rose Schlossberg and and Bobbi [Salvör Menuez]. It's cool to see how you continue to work with the same people but find all these new ways to do it.
HD:
I feel so lucky. I love collaborating, and I'm so honored to get to work with my friends who I love.
LM:
How does that come about? What is that moment when you feel like the relationship is ready for that kind of magic?
HD:
That's such a beautiful question, because it involves so much intimacy to let someone into your interior world. I met Bobbi when they were fifteen, at a performance where they licked whip cream off of a pretty much naked body. They were kind of a wild teen, and we really connected. So our dialogue has been ongoing for ten years. The same is true for many of these people. Collaborating with Rose was amazing. We both have a relationship with ecology and materials—specifically, sky terrains. She and I also went to this place where there is zero light pollution, total darkness. We're both really into total darkness. So there's a lot of crossover in terms of our interests.
CS:
The experience with total darkness—did that precede your experience in 2017 with temporary blindness?
HD:
Yes. For me, being in spaces of total darkness is incredibly nourishing. It's deeply fortifying, those spaces, and I now seek them out. It's interesting, because in losing my vision, I thought that I would be in this perpetual night-space forever. Time, when you don't have vision, is organized non-linearly. You don't know how long you've slept, for example, or how long you've been awake, or how long you will be in this state. So it was really incredibly powerful to just be in this space of not being able to see, and I miss it if I'm in a house or a friend's house who has a space where no light comes in, I will go and rest there for hours. I just really love being in space of total darkness.
LM:
Do you want to talk about your loss of vision a little bit? How did that happen?
HD:
It happened one morning. It's interesting with stories about a trauma, because you tell them over and over again, and each time, I'm sort of excited about looking to a different aspect of it. But I woke up and I couldn't see out of my right eye. On that day, I had a session with Caroline [Polachek] on the west side—I was in Los Angeles—and I couldn't see. It was kind of shocking. I saw white; it looked like a cloud was over my right eye. I drove to the doctor, and I was there before it opened. When he saw me, he looked into both of my eyes and he said, "You need to have an emergency surgery right now, or you will lose vision in both of your eyes."
LM:
Woah.
HD:
I said, "That's really extreme." [laughs] "This is a really extreme moment." I had driven there, but to do the surgery, someone had to pick me up, so I made a few phone calls to friends and basically no one could pick me up from the surgery. So he said, "Okay, come tomorrow morning at 8am immediately and sort it out, because we have to do the surgery." So I then drove to the session with Caroline. Caroline and I have been friends since I was seventeen; she's a deep love in my life and knows me inside and out, and she can read through pretty much any state that I'm in. So I got there, but I didn't tell her about my eyes, because at the time, I was in a really different place with receiving care. I had a really hard time receiving care, or needing help or anything like that. I was like kind of a tough guy, you know, a little bit shelled up. We started writing "Afar," and the whole song came immediately within an hour or two hours. It came really, really fast. I don't know if that state translates into that song, but I think it does, because there's so much about that song is led through steam and blur and fog and almost like being in a steam room or the basement of a building where all of the air is being processed to circulate. There's a lot of exhaling and inhaling in the song. But Caroline really took care of me and took care of my eyes—on this day and continued to for years. We would do steam baths for my eyes, where I was putting hot water in a tea cup and then making a little container around it and putting my eyes in, and it feels so good still. I still do it every day. But that's what was happening on that day, that particular day, where "Afar," the last song on Clearing, was made.
LM:
So you wrote that on the way to the doctor?
HD:
Well, I guess an in-between. So between the surgery, from finding out that I had to have surgery and then, it was 24 hours of vision that I would have before I lost it. So basically, what happened is when I went into the doctor the next day, I lost my vision completely for months after that, and it went into years of on and off vision. So it was a really transformative time, because even in terms of the way that I write or the way that I make work, my work is extremely visceral and physical and also involves looking down. We're talking ten gallons of silicone being mixed at once, a hundred-plus pounds of concrete, huge quantities of glass. So much of my physical reality at that time involved caring for and really holding and carrying materials, my body being one of them. So it was this moment where everything changed, because I couldn't physically look down. That was one of my requirements, but both of my eyes were bandaged shut—and by "look down," I mean, I couldn't see anyway, but I couldn't physically turn my head down. Interestingly, this led to really spending a lot of time writing this album and working in this air terrain, because working in air and with air, in terms of moving air through my mouth to make vibrational sounds in singing and songwriting. That was the lead medium of that time, because I could hold words in my head and sing them, whereas I couldn't even install one of my sculptures. Maybe two or three months after I lost my vision, I had a massive install a show in Los Angeles, and I couldn't physically install my work or see it, so I just felt every object and placed it based on how it felt. 
So it really was a time where listening changed, the way that I heard and felt other people completely changed, because in a state of total darkness, you are waiting a lot for people to interact with you or touch you. It's how you move from place to place. All of my exes moved into my studio, which was already very moving. They all took turns caring for me and creating this total care network around me to go to and from doctor's appointments, to go to and from sessions, to just continue living—but in this new state that I was in, in the morning, I would wake up and I wouldn't know what time it was. I would kind of wait for someone to come and then touch my shoulder. How I walked was I would hold people's shoulders. It's interesting, because it's like you're feeling everything with your body, but in addition to that, whenever I would go into new spaces that I had never been before, I would receive this map in my mind of where the corners were, and specifically, where water was. Wherever water existed in this space, I would know where it was; I could reach into a refrigerator and pull out a glass of water if there was any water in the refrigerator.
CS:
How did you account for that?
HD:
I had no idea. I mean, it's amazing how quickly we as humans can adapt to new terrains. But my primary relationship in my life is water. I have a very deep relationship with feeling nourished by and caring for water, so this as a particular material that was speaking to me at that time is not surprising, but it was really interesting, very unexpected.
LM:
Did losing your sight give you a new sense of bodily presence and awareness, and a new relationship to breath that translated to the musical creative output more than being a visual artist?
HD:
I think that immediately, all of the terms changed. In my life, I have developed a language system that is immense and is material-based. I've been in a dialogue with materials, trying to push materials into new forms, support them transforming and making new materials here on Earth, and really asking: What is needed here? Is it possible for a material to hold something beyond its form? So that that was the lead question in my life, and that's what led me to work with music, to work with vapor, liquids, explosives. Fire as well. All of these involved this question about what is the toolkit here on Earth. So when my vision changed, it completely changed my relationship with my body, because before, I think that I had been working with materials almost in a grounding way. They really anchored me here on Earth, and it was very tactile and really powerful to have that support. But in my new state, I couldn't carry things. I could hold them. I could feel them, but I couldn't see them, and I learned that vision for me was an incredible distraction from this whole other world that is present here, but not visible. The surgery was in October, and at the end of October it was Halloween, and friends had a Halloween party. My ex-girlfriend was DJing at the party and I dressed up. You know, not seeing yourself is really liberating, because you're completely inside of your body and you're really without a body. You're kind of beyond your body. So it was very different to kind of adorn or celebrate or augment my body, because I could feel it but I couldn't see it at all. So when I went into the space again, I couldn't see anyone's costumes, but I could feel them. I could kind of feel what was going on with them emotionally. So I had this one experience where someone who I knew a long time ago came up to me and said, "Hayden, I've been thinking about you. There's so much that I want to say to you." And I started crying, but the tears weren't mine. I don't know how to describe it, it was so weird. They were upset and feeling a lot, but the tears were coming through my eyes. I didn't recognize their energy, I didn't know who they were, but I could feel the pain that they were in, and how powerful the feeling that they were having was. So it really opened me up to this other communication system and other way of being here on Earth that I had no awareness of before, and I stopped valuing vision. I became—I wouldn't say no longer interested, but I was not really that interested in getting my vision back. I was very immersed in this new way of being. Of course, it was really challenging, because it involved having to communicate on a completely new level, even just in terms of making artwork or songwriting. I really had to adapt and find a new level within myself to be able to translate, because it was so immersive. I always was visually impaired; I always had different problems with my vision growing up and as a child, so I always had soft vision, but in this moment where my vision left, I entered into a new level of soft.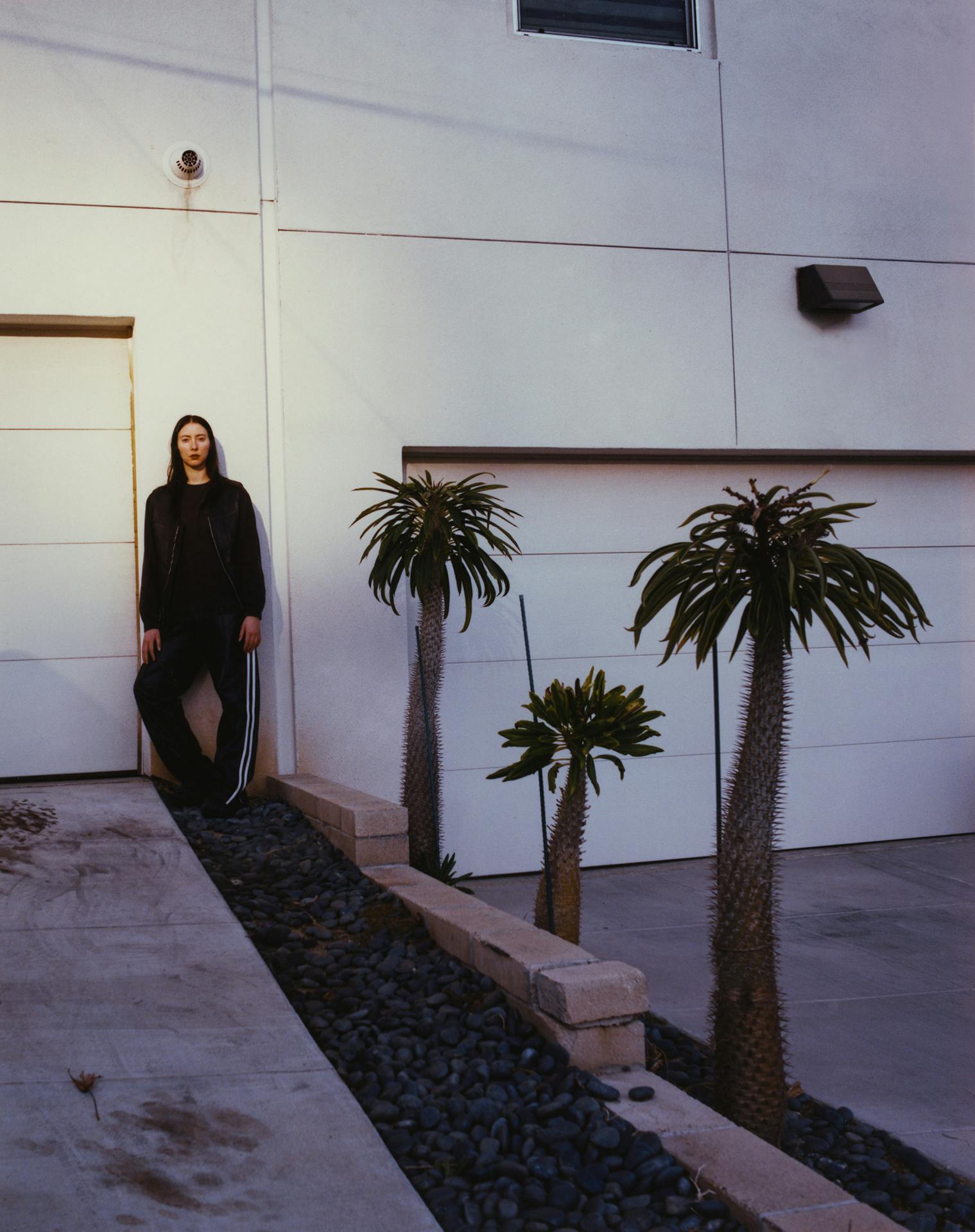 LM:
How do you find harmony with between transcendence and presence? It seems like a lot of what you'd experienced meant going within in order to transcend, but you still seem very grounded and available for your life and the life around you. How do you find that balance between transcendence and availability and presence?
HD:
Such a beautiful question. I think it's a constant process, this question. It's much easier for me to be air than it is to be human, to be in this material plane. I think a large part of my work comes from that interest of how can I be horizontal here on Earth, and that's being connected to other people, that's being connected to this environment of which we are all part, this larger ecosystem. It's a whole way of being here. It's much easier for me to be vertical, to be in communication upward. I find that really recharging and replenishing, and it was way harder for me to be bodied when my vision left, but that was a gift. It's like, you're bodied in this way, and you feel everything though that.
Right before I lost my vision, a friend of mine was in the desert outside of Los Angeles, and they got lost on a walk. This is a really rocky terrain, and it was a new moon, so when the sun set, they had very limited time to get back to their car, to go back to their home. They wound up getting lost in total darkness. This area is very close to the area that I mentioned earlier that has zero light pollution. So what wound up happening is for hours, they were just walking aimlessly in the dark, where they literally couldn't see their hand. They told me the story the next day, like, "This thing happened where I was lost in total darkness and I couldn't see anything and I was panicking…," and they had this moment of resting on the ground and this experience of becoming darkness, of merging into the darkness, of becoming one with the environment that they're in versus outside of it. I think that human exceptionalism really has this thing of being individuals, or us against the environment that we're in, us against each other, and this separation that is constantly inserted in the way that this life is organized, but in this moment for her, she really found solace and serenity and becoming one with the ground, and she said to me, "It really reminded me that in moments of total darkness, the sun will rise if you rest. The sun will come up at some point. You just have to trust that the sun will find you." And sure enough, after however many hours, the sun rose and she was able to find her car and navigate back. So that story was one that really held me when I was scared, and still does. I no longer fear total darkness, because I know that that space is actually deeply nourishing, or it has been for me. Of course, being in chronic pain is really an embodiment practice within itself. It's such a wild invitation to stay embodied when you are suffering, when your nervous system is crunchy or things just feel so overwhelming in a sensory way. That was another gift: pain is an incredible grounding tool to be embodied. I didn't feel that way for a long time, and then over time, I learned about it. So when these waves of pain would come—because with my eyes, it was a constant dull pain, but then it felt like there was glass under my eyelids—it's incredibly immersive. So I just learned that that is a way to come back into my body.
CS:
It's something you've been able to carry with you from then on, it sounds like.
HD:
Yeah. There are so many gifts and experiences that are so scary at the time, but afterwards, you realize that you're part of this larger cycle. There's information there.
LM:
I don't know how this totally relates, but this came up for me in hearing you speak: Formlessness is this natural state, a sort of infinite, perfect pool that we wade in and out of as beings. We begin there and we end there, and in between, we operate as these alienated fragmented forms, these structures, as humans.
HD:
One hundred percent. Yes.
LM:
So, you know, there's this trauma of entering form and figuring out how to find connectivity and relationship and sharing that experience with the forms around you, breaking down that alienation and reconnecting with that infinite perfection, that formless state, as a form. I believe you probably already had the tendency and poetry to access it on your own before, but it seems like the loss of physical faculty that you've had in your life has operated as a vehicle towards even deeper connection with that state.
HD:
Yes, and I think also before that, there was water. Water is this incredible material that can separate while still remaining connected to this larger whole. And for many years, I really worked on being water, you know? Water is a conduit, and coming from air, it was quite a process condensation. I've really tried a lot of different ways to become water. Andrea Rosen was my longtime gallerist, and she and I had this conversation in her office one day where I was talking about water, and she was like, "Okay, water. Great. What about rocks? What about these other material elements? Why be so fixated on being water, or identifying with water?" And I was really confused by that. Or she was like, "What about Earth?" And I had had the experience of becoming a flame. I lived in a fire state for a long time, but that's not a sustainable state for me. It's not great for other people that are close to me, I'll tell you that. But water just teaches me and offers this way of being—like, how can I be more nourishing? How can I be more generous to this ecosystem? Those types of questions, I think, are really exciting for this time and have always been a deep inspiration for me. So at the time, I was not interested in becoming a rock—luckily, because that path is a difficult one. But the way of being mutable and amorphous and able to adopt and change forms, and being opened and soft, that's how I want to be here on Earth.
LM:
I can say it from a personal experience, to connect this back to your practice: I didn't realize at the time that you were "Hey QT." I knew your artistic practice, your visual work, from showing with Andrea Rosen, but I didn't know your musical practice. I didn't connect it to you at the time. Now, to see how they both have involved in tandem, I think there is a real fluidity and flexibility there, and it seems like there's a sort of core philosophy that guides your decision-making, but it can easily be applied to probably anything. I mean, any medium, I think you could invest the time and make it work.
HD:
It's really about time, it's true. I guess those are some of the tools that we're gifted here on Earth. There are some things that are fixed and some things that are mutable, and for a really long time, I was really oscillating in a fully mutable state. Really, Hyd has really helped me become more solid. That became interesting to me. The work I was making at the time involved evaporation: making these very large-scale baths, filling them with mineral composition and waiting for the water to evaporate, and the composition of the piece would change depending on the water used. If you're using volcanic water, there can be carbon in the water, and that can have a reaction, for example, with magnesium. It really changes the composition of the work. So thinking about things in terms of total ecosystems is really interesting to me.
CS:
So how did you arrive at Hyd? I'd be curious to know what it represents to you: Did you see Hyd as a vessel for more readily locating and manifesting certain aspects of yourself? Or is it more a tool augmentation, where you're providing an outlet to become something new?
HD:
So much of my life has been developing new materials and vessels for something else to come through, and it's not always possible. It involves a lot of failure, a really high-risk/high-reward type of thing. I feel like failure, in a material sense, is a huge part of that practice, because it's almost like a testing ground for what can transmute or what can come through. So when I first started working in music, I worked as a pop songwriter for other people, and that was really fun, because it's so much about listening: hearing a chord progression and receiving a material landscape and translating it into lyrics. This communication style of using music to communicate is something that I grew up doing. I have the type of brain where if I hear a pop song, I will remember every lyric and can recite it back and can communicate with the lyrics based on the feeling. So that terrain was an extremely fertile environment for me. It came really with a lot of joy. It's really fun to work with air in that way. Singing was not that way. Singing, moving air through my vocal cords, was not something I was interested in for a long time. I just was like, "That's not how I want to use my body." I'm really interested in using my body in all these other ways and pushing it beyond its form, extending it, but singing wasn't a part of that. And then one day, I was at home with my ex-girlfriend and we were writing a song. We were lying in bed, and the computer was on my chest, and I was trying to communicate a melody. I was singing it, and in that moment, something came through me. I heard it, and it was interesting. I'm not someone who is naturally gifted, really, at anything. I was never picked for the volleyball team. I was never excellent any specific thing, but I really love being devotional to different materials and going in completely and pushing as far as I can.
It took me seven years to make this body of work. When I start a project, I think, "Okay, this will take me five years." I work in timelines that are expansive. Like right now, at this exact moment, I just finished a seven-year cycle with this album Clearing. I have another ten-year cycle that I'm four years into that has to do with a water sanctuary that I am making. There are always multiple cycles that I'm in the process of, but mostly they involve things I've never done before and that I don't know how to do and that I get to learn and fail in. I really love that.
CS:
It's interesting to have a project have that long of a gestation period. Whenever I hear about artists working on pieces or projects for extended periods of time, I find myself wondering how they've maintained a connection with that work while they themselves have evolved as people and as artists. I'd be curious to know how you've maintained a relationship to this work, and whether individual pieces have come to mean different things to you. 
HD:
I love this question. Hyd, for me, is a recharge zone. It's a place that I go to receive and exchange energy, and it's been private. It's been an internal process for so long. It was also like a secret, my special secret that I had with myself, and now that ecosystem, that garden that I have built, is available to experience. It's circulating through these sounds, through the sound world. In it, there are multiple versions of myself that I get to visit and care for on the album. It opens with the song "Trust," and the lyrics are, "I don't trust people/I don't trust anyone." It came from a really deep fire, magma, volcanic place in me of feeling really scared of other people, hurt by people, really isolated. I think about that version of myself, and now I'm in the future, and I get to move through time and care for that version and be cared for by that version. Music is a container for bodies who are not here in the present, necessarily. So it also involves a lot of time travel, of moving between time and space. So many of these songs that were made five years ago, now I understand where they came from. In my practice, I'm also just really interested in quantum movements and how things can come through that are not from this time. So I might make something today, but it may not have a place in this world until five years from now. In a way, it's very forgiving, because it means that I can fully go into these different extensions of myself—or extensions of this work, of this practice—and not really understand why, but have a feeling about it coming into play many years later. So that is how I still work: I will make things without understanding how it will fit into the larger picture, but trusting that it's all connective.
This week, I had a really weird experience in the album being in the world. I didn't think it would feel different, right? I've spent years working on these songs, I know them as if they're a part of my skin. But the night that they came out, at midnight a few days ago, I took a three-hour bath. Normal for me. [laughs] I love being in water, you know. So I spent time with my primary relationship, and was just feeling really held by water, and then I listened to the album, and I immediately started crying. It was shocking. It sounded so different experientially, because it's kind of like when you have an aerial view of your garden. You know, you've been taking care of the plants and so you know the shapes of the leaves, but you can't really see the plants. It really took leaving the garden to look at it and to be able to see it in a new way.
CS:
I love that answer.
LM:
I think really great art is something very universal, and it kind of comes through the artist. I think the role of the artist is to step out of the way as much as possible, to allow that universal poetry to come through them. Along the way of that happening, oftentimes what you end up with is this sort of residue of that person's experience as it's transforming and entering this material plane. It's accumulating the experiences of that vessel, and so it reveals itself to the world with particularities, depending on who it came from, who it came through, but the language itself is something universal. It's something that everyone understands. There's this sort of synthesis that happens between the person making the work, the work itself, and the audience. I think when you're alone with your practice—with your work, with that vernacular that's come to you, that you've received, that you metabolize and translate into an expression—it means something very different, because it's not really completed. There's this whole synthesis with that sort of ecology that supports it, and that residue is exposed to the world, of how it came. There's a lot of humility involved in that, and it's a very vulnerable experience, but it's also a very connecting and intimate experience. It totally changes the language of what you do once that happens.
HD:
So true. Also, it's like an entire world that has been translated into this physical world, and I just get really excited. I think we are all in this practice as humans: we get to build out the world that we want to live in. We actively do that every day, as a practice of bringing Heaven to Earth, or however you want to say it, bringing in a new world here. So for me, with this work, it's so moving to see the way that it is held on Earth, because it hasn't been on Earth. Did it come from Earth? I don't know. I don't know that it came even from Earth. I'm not sure where it came from, but now it's here on Earth, and so Earth is the plane that it's moving inside of, and I feel inspired by that. It's a reminder for me, that Earth is the plane that we are here on. What can we do here to change the frequency, to support each other, to raise sensitivity, to be more empathic, to be more enveloping and nourishing with each other? Those types of questions. I feel like music operates like a bath—it can really change your interior environment just by listening—so that transformation, and transmutation, is something that I work with myself. I really rely on music to change my frequency, especially if I'm having a bad day, or I'm hurt, or I feel scared or something. I can really lean into this air blanket and wrap it around me.
LM:
What about when you're having a hard day or having big, intense feelings? Do you turn to music for the same sort of support?
HD:
I mean, I have an Earth toolkit that I've been developing. I'm like, "Okay, so Earth is kind of a hard place to be. It's a little bit of a rough ecosystem. What are my tools for being here? How can I be more embodied?" It's not always that I have access to my body. A lot of times, I don't have access; I'm hovering just above it or outside of it, and I'm not in it. So music is in my toolkit, but singing is now my primary catalyst, because that is something that's vibrational. It involves air. It really helps me change forms.
CS:
You're adapting a new form now on tour as well. I wonder if that's a physical release or transferring in a different way.
HD:
Yeah, it's a wild invitation. I was thinking about how I'm in New York right now. I lived here for many years. New York has this special way, almost like an energetic field or something. When I land here, things move, really fast. I'm a very slow-moving person in general—even just physically, I'm kind of slow—and somehow New York just has this circuit that just immediately sets in and catalyzes things really quickly. I went to my gallery company Gallery, which is where my show Transmutation was and just went down. So I was in the space for the first time since then, and I was thinking about how gallery spaces, or museum spaces, can be a conduit for something to come through. Now I'm touring, and so I'm in new spaces every day, and it's really exciting to think about, like, how can I change the oxygen levels in the space? How can I bring water here? What would it feel like if people experiencing the show left more hydrated just by listening? How can I transmute this practice which I have always done with objects and I'm now doing with my body?
LM:
You're so interested in materials, and the material of music—and in particular pop—is emotion. It's so universal, and it's so powerful, probably on a more primal level than visual work. I don't know entirely why that is, and I wish that it wasn't always true, but I really believe that it is. Do you think you will lose interest in creating work visually as time goes on? I think what working with audio does is it kind of pushes something a little bit further towards emptiness, towards formlessness. It's immaterial, and the material state is less physical, and so it's operating in a different realm. I wonder if the efficacy of communication that you get with music will dilute working with objects at some point.
HD:
You know, this is a question that I have been really interested in as well, because again, developing this material language that I have always used to communicate in terms of my sculpture practice, I thought maybe that would happen. I thought maybe it would become less interesting working in this physical realm, but I really haven't had that experience yet. It's still really moving to me that materials can hold a form beyond themselves. That's really the practice for me, trying to locate those moments, because they're really moving to me. Even doing the show was super interesting, because I was in the middle of releasing the album. The show opened on the same day that the first single from the album came out. It was this cataclysm where everything was connected, it was all circled into one. The sound score for the show at Company also came from the song that was released, so again, I've got the air and Earth terrains all connected into one. This was a really challenging moment for me, because having these separations or different parts of my practice was very secretive. I was just living in like a lot of secret realms, and somehow, whenever they collided, it made something so powerful and unexpected. So I think that as long as I'm still connected to this body that I'm currently in, I will continue having this material interest, because that is the terrain that these dialogues take place in. Does that make sense?
LM:
Absolutely. Actually, in a way, it relates back to that earlier question of balancing presence and transcendence. It's rooting your experience in a physicality and in a form, but still connecting to something formless.
HD:
Yes, and also just really putting that energy on Earth, because I think having a concept—or an idea, a frequency—that you are interested in, or within yourself, and then translating that to other people and to this physical realm is a very difficult task. For me, it's a gorgeous invitation, and one that I'm really interested in practicing every day, because I really do want to live in a different world than the one that we inherited.
◆