Rebekka Bay
In this episode, we speak with Marimekko creative director Rebekka Bay about her unconventional career path, her unique approach to creative direction, and the longstanding bond between fashion and art.
Podcast produced by Ryan Leahey
Original theme music by Kasper Bjørke
Photographs by Clement Pascal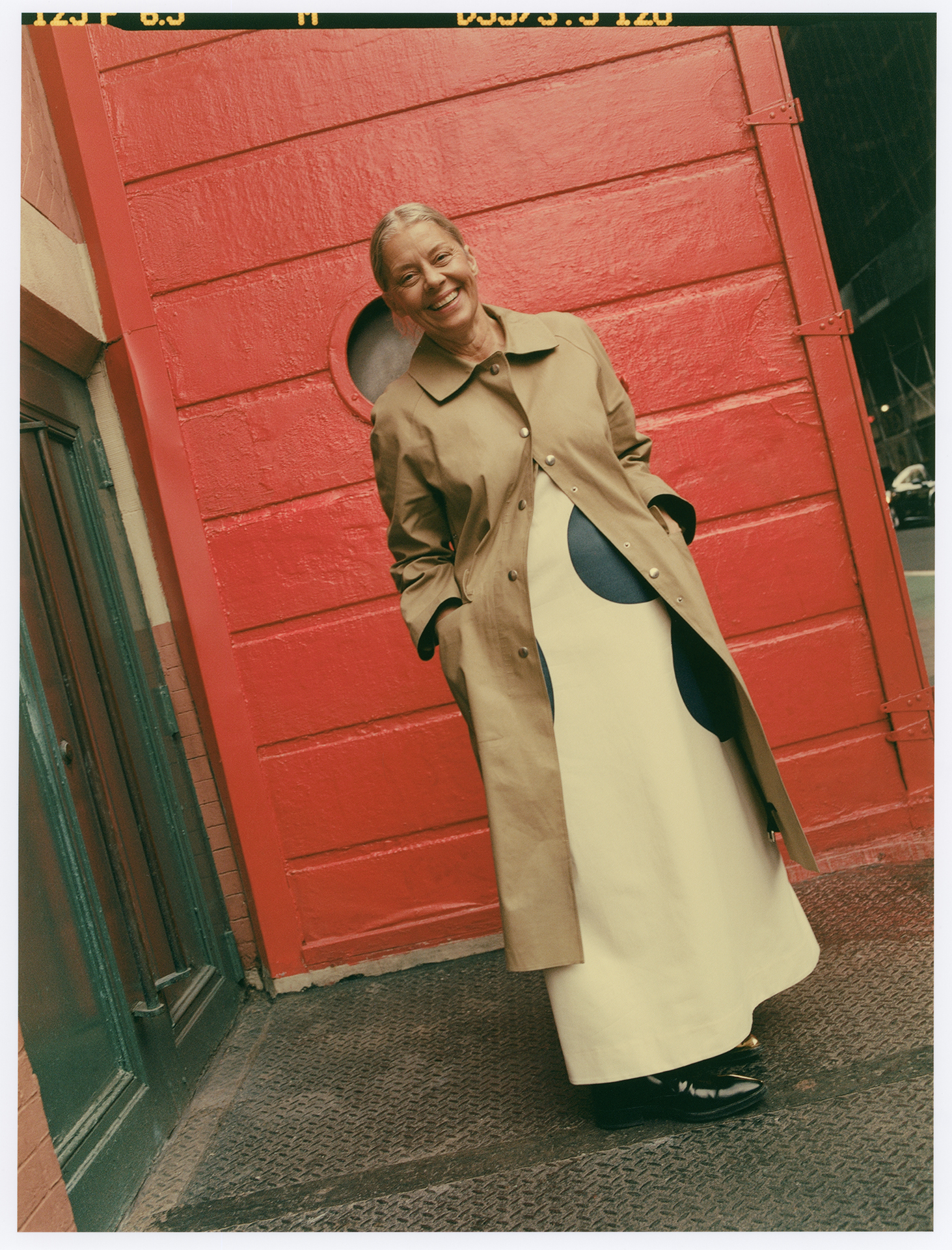 Christopher Schreck:
Your journey into fashion was somewhat unconventional, certainly not a straight line. You studied art in undergrad, then attended design and tailoring schools and spent several years in branding and trend forecasting before being approached by H&M to develop what became COS. I'd be curious to learn how each of those steps led to the next one, and why you ultimately decided to focus on fashion.
Rebekka Bay:
But I never decided to focus on fashion! I always thought that I wanted to work within the arts, but with sort of a commercial approach. I really like this idea of communicating or connecting people. So I started art history because I wanted to have a formal way in, but I wanted to take it somewhere else. Being in Denmark at the time, I didn't know that you could work in journalism focusing on art. I didn't really know what the options were, so it felt natural. But then, shortly into that, it didn't feel so natural. I'd say, "Oh, it's too academic  I really I care more for the creation." But at the time, I had no idea what the creation was.
I was always fighting against this idea of working in in fashion, so ending up in fashion was much more of a coincidence. First, it was like, "Oh, maybe I should learn a trade. Tailoring is a trade!" My dad is a photographer, so understanding the craft was important to me. Then I applied to design school, but already knowing that I really didn't want to work in fashion. Really, I didn't even want to design. I really wanted to communicate. I was really interested in the process: Where are we coming from? Why are we responding in certain ways? Why does something resonate with everyone at the same time? I was really curious about the zeitgeist. So I interviewed with a fashion school, where you do a portfolio, you do three-day tests, and you do an interview. I told them in my interview, "I really, really don't want to design collections." This is during the time of the Antwerp 6, and of Commes de Garcons, and Yamamoto and Issey Miyake, and I was like, "I have nothing to add." I had nothing to add to the world of fashion, but I was really keen on figuring out what could be my path.
Landon Metz:
Why were you so opposed to designing or working in fashion? What was that threshold that you didn't want to cross?
RB:
I don't think was opposed to working in fashion; I was opposed to making a life as a creative. I'd grown up with my father, had to sacrifice at times his creativity for commerciality or who always had the creative part of being a photographer as a side to his professional job. I was always concerned about ending up in this conflict.
LM:
Did you father have a personal, private photo practice that he considered his art?
RB:
Yes. It's actually very interesting. My dad actually worked for a museum photographing sculptures and paintings. He would produce art books and exhibition catalogs. He originally trained as a portrait photographer, so he had his own atelier for a time, and he has always been photographing landscapes. So he continued his own practice, and now he's retired, so he's doing that a lot. But I just think I always saw him in this this conflict between what he needed to do and what he wanted to do, and I really didn't want to be that. I didn't want to be a starving artist. I felt the need to have the academia in place as well. So it wasn't fashion as such; I always cared a ton for fashion. I think in the little town where I grew up, a town of 60,000 people, I was always ahead of the curve. I was never "on trend" because I think I was always ahead of the trends. I was always looking for the next.
LM:
But you were picking up on some sort of creative impulse or intuition that was happening around you. Your sensors were activated and you were feeling it. You had a capacity to translate something in your environment into a singular decision-making process, which is a creative gesture, and which also requires a choice. In a way, you were acting like an artist, in that sense.
RB:
Yeah, I agree, and I think that's also that's also why I didn't end up focusing on trend forecasting. It's really about trusting your intuition or your instinct and turning that into a singular vision, and standing behind that. Now, as a creative director, I cannot question my instinct. If I were to start questioning my instinct, how could I then lead a design team, or teams at a larger scale?
LM:
It's funny. I think we talked about this one of the first times we ever met, which is that a lot of what you're saying resonates with me about being an artist. I feel we kind of just move through the world, we live our lives, we have our families and our people and our communities, and all the things we have to do and want to do and whatever. In the process of doing all that, you sort of accumulate a lot of life and you translate that into an intuitive decision-making process. The work that results from your bodily filter is your singular vision, and how you choose to translate that, how you choose to communicate and disseminate whatever that is, is ultimately coming from the same creative impulse. So I feel like in a very strange way, you did choose the life of an artist, or it was just your natural state. You operate in a way that's very familiar to me, as someone who makes things.
RB:
I think you're absolutely right. In our conversations, there are so many similarities in how we approach the work, the process, the medium. I think the big difference is I never chose it. It sort of just happened. I just landed in this, and maybe I also just stopped questioning, "What's the next? What's the next?" One thing just led to another, and being extremely curious about how things are, how processes work, it's actually fairly easy to engage in all these different parts of creative process, because I'm always coming into it with a question: "How are you doing this? How could we do this? What's the dialogue?" I think what I've picked up on in our conversations is that there is a lot of this questioning of externalizing and internalizing: What's the input, and what's the output?
LM:
Yeah. I also think the thing that you do that I recognize is you make yourself available to receive those messages, and you put yourself in the vulnerable and empathetic position of telling a story. It's choosing to be available, and then also choosing to do something with that information. Those are two pretty big gestures, and they require a lot of vulnerability and empathy. There's a kind of stepping aside or opening up that has to happen on a personal level to make that possible.
RB:
Yes, I think you're right.
LM:
Can I ask what your mom did?
RB:
I didn't grow up with my mom, so it hasn't really impacted my life much, but she's a child psychologist. [laughs] I'm laughing because it's like, of course she is.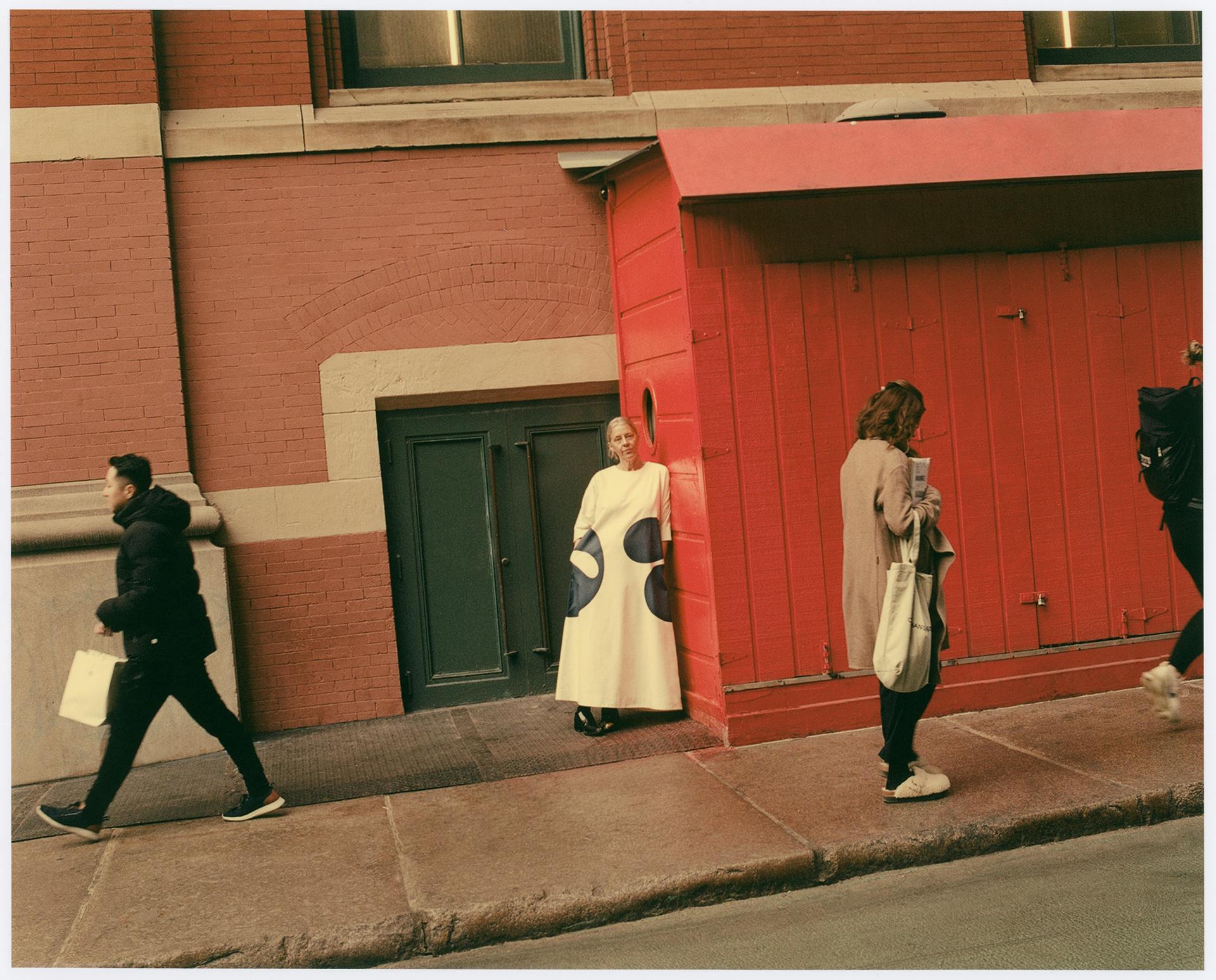 LM:
It's another tragic irony.
RB:
Yes.
LM:
And your father is still practicing?
RB:
My father retired probably ten years ago. I've never seen him happier, because now he takes pictures of what he wants to take pictures of.
LM:
Totally. He's an artist.
RB:
He's definitely an artist. You know, going back to the choices you make (or the choices you don't make), I think he's probably proudest of me because, as I remember him saying very early in my career, "Rebekka, you actually manage to be both: You're very true to yourself, and you have so much integrity, but you can also make a living doing that." I think for him, that was always the struggle: How do you make a living out of what you really want to do?
LM:
Do you feel in hindsight that you didn't do the thing that you were trying to not do? I feel like that's exactly what you've done.
RB:
I just think it wasn't such a straight path.
LM:
Is it ever a straight path, though?
RB:
For some people it is. I think a lot of people would view me as very ambitious in everything I do, and often there's a misconception that it requires knowing exactly where you're headed and how to get there. For me, that was never part of it. I think probably, to your point, it's also about allowing yourself to be vulnerable, to allow things to happen to you and then respond to them. So for me, it was not a straight path  it was much more about not being scared of entering deep water where I didn't know how to swim, or jumping off of a high cliff.  Sure, certain situations have been scary, when you're sitting there and you don't know what's expected from you or what is required, but I've always figured out how to deliver something that was meaningful.
LM:
That's unconditional love, right? You're meeting life without prerequisites, on the terms that are handed to you, and you choose to let that happen as it does. You can process it as it comes, but you don't have to hold on to something or an idea of what life should or shouldn't be. You just kind of allow it to come to you.
RB:
Yeah.
CS:
So you arrived at this role of creative director, and you spent some time at places like Uniqlo, Gap, etc. When did you join Marimekko?
RB:
I joined Marimekko in September 2020, sort of in the middle of the pandemic.
CS:
What drew you to Marimekko? Outwardly, one could view it as kind of an interesting choice for you, in terms of joining this print-heavy brand with a signature aesthetic and this extensive heritage. What was it for you to come onboard and combine your vision with what was already there?
RB:
In all the shifts I've had in my career, I've always tried to take on something that was new, something that I had never experienced. I've always been very concerned with this idea of creating better design for the many. I really believe that good design can make people's lives better. I think that's the real thread in everything I've done. I'm always very concerned with this idea of working with a brand that is democratic.
LM:
Are you a Bauhaus fan?
RB:
[laughs] I'm totally a Bauhaus fan.
LM:
Have you read the writings of Walter Gropius?
RB:
Yes, I have. I'm also very much a Charlotte Perriand fan. I'm very much Jean Prouve fan. I'm a modernist, in many ways. For many years, people were always referring to me as a minimalist, which I'm not. I'm not trying to reduce everything to nothing. I just really believe in these democratic values, and I really believe that better design can make people's lives better, so I've always chosen brands based on that. I definitely have a weak spot for the really big ones, which is why I have worked for a few of them, but when the Marimekko opportunity came to me, I had actually been on the board of directors for a while, so I knew the brand. I was used to traveling to Helsinki  I lived in New York at the time  so I was very familiar with the teams, the people, and the brand – and, of course, the brand history, with seventy years of radicalism and female empowerment. So there was a lot in the history of the brand that really resonated with me. I've never worked for a brand with such a strong female heritage, but I've also never had my hands on anything like this archive. I've helped start a brand, I've worked for brand with shorter histories, and my role as a creative director was really just to continue that. With Marimekko, getting my hands on seventy years of print history, and more than 3,500 prints, it was a whole new approach. How do you onboard yourself? What do you do with this strong heritage, so that you will focus on the future, on the next seventy years, but also honor the work that has happened the previous seventy.
CS:
Right. It puts you in an interesting position, because you have to be future-focused, and yet you have this other responsibility. Having said that, do you feel like it's part of your role to challenge preconceptions about Marimekko, to challenge the tastes of your customer base?
RB:
I think that's just my role, and not even just for Marimekko. I've always took it upon myself to challenge conventions. What is expected of today? What should we settle for? I've always had this strong desire to do better, to create things of better quality and ultimately direct our customers to understand why we're doing what we're doing, the deeper meaning. I think what's interesting with Marimekko is that when you have so much history, there's always this danger that you're just looking backwards, resting on your laurels, resting on your history. I felt when I joined Marimekko that here was a little bit of that: "Oh, we'll just dive into the archive, we'll just repeat the same stories." You can become a little bit of an institution, a museum, instead of creating relevance of today. So the first thing I really concerned myself with was, "How do we honor these seventy years while also creating something of today? If we were to look back on the brand seventy years from now, how will what we're doing today impact the next seventy years?"
LM:
Where do you think this desire to challenge comes from?
RB:
I don't know. I think I have this overly developed sense of what's fair and what's good.
LM:
What does fair mean to you?
RB:
I think it's probably connected to these democratic values of equality and not having to settle, and I think that's what I bring into this role: never really settling, never being happy in the middle. I really hate the middle of everything. I like things that are really small or really big or really quiet or really bold. I just think the middle or this mediocrity is such a static and not challenging and boring position to have.
LM:
Is there any relationship between Denmark or Scandinavia and that feeling inside of you?
RB:
Yeah, I'm sure that being Danish - having received a Danish education, having lived in a liberal artistic environment - I think it's been ingrained in me. There's this quest for better, a quest for betterment in everything we do. It's in how you behave - how you are as a human, how you are as a mother, how you are as a daughter, how you are as a friend, as a creative, as a team leader.
LM:
So you feel this desire to challenge is in parallel with the way you've grown up in Scandinavia. It's working in tandem.
RB:
Exactly
LM:
It's not opposed to it or going against that grain.
RB:
No, definitely not. I know that that you know Denmark (or at least Copenhagen) really well, and of course, in Scandinavian culture, and especially Nordic culture, there's this Law of Jante, which is very embedded in our culture, and which is the opposite of betterment than ambition. But I never grew up in an environment where anyone would push back. I think more the opposite. I went to schools and I grew up in a family where if you wanted to do better, if you wanted to jump off a high cliff, then it was like, "Jump! We will pick you out of the water if you cannot swim."
LM:
So you felt some security in the collectivity.
RB:
Yes.
LM:
And that made you brave?
RB:
Over time I think it made me brave, because I think I really live by this. If you ask yourself, "What's the worst thing that can happen," it actually has to be really bad to be worse. So I think if you can enter into everything with this idea, then it's actually not so bad.
LM:
Yeah. It's more like, "What's the best that could happen?"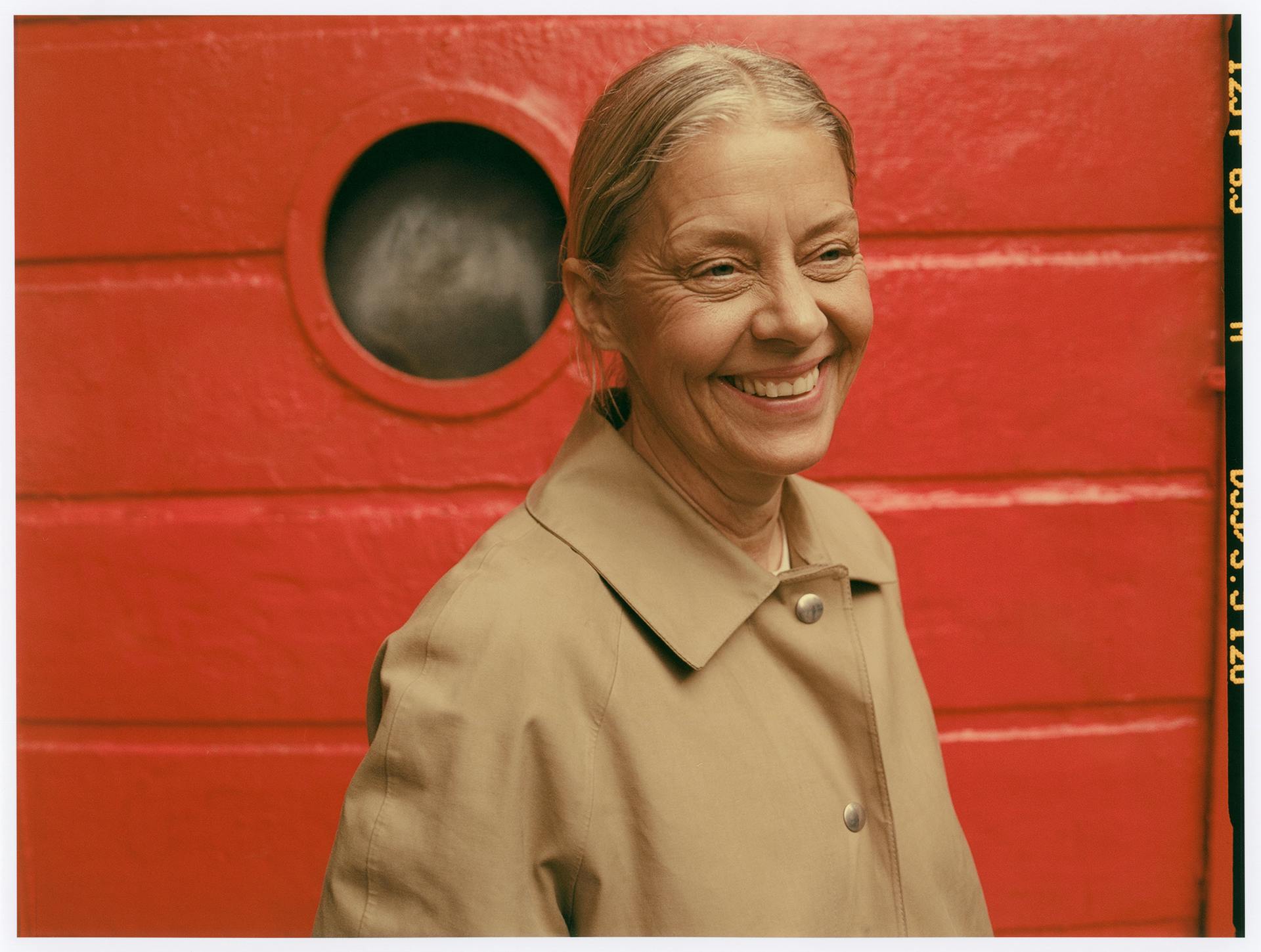 RB:
Yes, but I think more in terms of just putting yourself into these situations where you don't know the outcome, but very rarely will it be very bad.
LM:
Or you trust the process. You know that whatever comes your way, you'll trust your intuition to make decisions to help you navigate that in a way that isn't necessarily safe in the moment, but will always guide you back towards some sort of security.
RB:
And maybe it's less about bravery, but where I am now, I'm not scared of failing. I'm really good at apologizing. I'm not so scared of revising my ideas. I'm quite happy to be to be challenged to change direction.
LM:
That'll keep you alive longer, probably.
RB:
Yeah, maybe. I don't know! [laughs]
CS:
I'm looking at these pieces from the collection that you made with Landon, and in light of that collection, something that he and I have been talking about recently is the long and rich history of fashion labels and designers reimagining artistic works. Some of the examples we've been talking about are Elsa Schiaparelli's work with Salvador Dali, or Yves Saint Laurent's adaptations of Mondrian and Matisse, or even more recently, something like Raf Simons and Sterling Ruby. Obviously, Marimekko has worked with outside designers from the start, but what's the brand's history in terms of collaborating with visual artists?
RB:
That's actually a quite recent history. I don't necessarily want to make a distinction between our print designers and our artists - it's more the way we work with them that is different - but as you're saying, we have a rich archive; we've always worked with external print designers, and then we have an in-house art studio. But this idea of working more directly with artists came from when I joined Marimekko in this role. I felt that as much as we have a rich history, maybe we are not always willing to enter into what a true artist collaboration is. We haven't always been open to understanding the process of how to protect the integrity of the artist's process of work and then apply that. Instead of just looking at the art as a two-dimensional pattern that we will then put on top of a garment, I felt there was something in opening up the collaboration in the process of deciding how to apply the work, how to translate the work. So that is fairly new. Our collaboration with Landon is the second in a series that I hope will continue.
CS:
Have there been any common traits or sensibilities that have tied the artists that you've chosen to work with together?
RB:
For the artists collaborations, there is a very intuitive process. It's really me falling in love with something, or me falling in love with the idea of translating that into a garment. In my work, I've always been super inspired by the arts: literature and visual arts and sculpture and spatial design as much as architecture and furniture design. That has always been the starting point for everything I do. It can be an "ism," or it can be a chair or a specific artwork. There's no rules and there's nothing that's bigger or smaller. So the artist collaborations are exactly the same. With Landon's work, I feel like I've always known it. I cannot remember not knowing London's work. It's something that I've always responded to - and of course, not everything that you're inspired by is applicable to garments, but it's so interesting, because Landon, I was just looking at some of your work from a few years back, and suddenly I couldn't see it just as paintings or canvases. I could only see collection lineup! [laughs] So I think I started the translation even before I reached out, because I thought, "This is so obvious. It's so applicable." But what was unique here was that it wasn't applicable to a single piece, but more to an entire lineup of pieces.
LM:
The way the works move through space, how they exist in culture.
RB:
Yes.
CS:
Can you talk about some of the decisions you made in terms of translating his work on canvas into wearable garments?
RB:
Absolutely. Of course, in garments, there's a three-dimensional piece, so it wraps around a body, then there's a material, and then there's the artwork itself. Really early, we started trying to figure out how to replicate the way the color is placed on the canvas. The material decision was really easy, because we just wanted to replicate the canvas. I love this idea of working on an untreated, unbleached canvas; we do that as well, so there was a clear connection there. It took us many tries to figure out how to create the color gradation in the print. But above all, in Landon's work, what I see is the continuation and the repetition and how the pieces are connected. We really wanted to try to translate that into garments – very literally, but also conceptually. I don't want to be too detailed here, but normally, a dress will have side seams, stitched on the side of the body - but here, we decided to move some of the seams to the front or the back to refer back to where the two canvases meet, to really recreate that. We were also very interested in placing the the artwork around the body, so that if you were to line up several dresses next to each other, and they started moving, the artwork would change based on how the dresses would turn.
LM:
Everything you're saying is also so in line with my practice already. The way I think about the installation of an exhibition is not just the way the paintings move through space, but the work itself is about the way the paintings move in society and culture – so it's the way that they accentuate the particulars of the exhibition environment and the echo that has on the viewer and their body and their perception of their own physicality within that space. It's anything I can do to create an awareness in the viewer of their body and their relationship to not just the image, but the way the images are functioning on the object, and the way the objects are functioning in the space, and then the way that language is situated within society, and how it can be amorphous, and how it moves. So when you reached out to me, and after having conversations with you – 
RB:
Many conversations.
LM:
[laughs] Sorry. But it became very clear that you understood that there was a sensitivity to the way the language can be articulated across different mediums, and the way the work is moving through not just literal spaces, but also psychic spaces, and how it's situated within culture. So it's this jump from acknowledging the body in an exhibition to someone quite literally moving with their own body through space wearing the work, and how that can be articulated across multiple garments, and the gap between them becoming a charged space. That in-between space, that tension between what's there and what's not there, is where my work really comes to life, and you guys didn't just visually recreate that, you actually embodied it in the whole project.
RB:
Oh, I'm happy to hear that. I think that is the biggest difference with the artist series: we're really trying to not just visually recreate something, but really trying to understand the practice or the Integrity in the work. As I said, we had many conversations, and I think you had reservations about what it means to apply your work in a more commercial context, but I think we also learned – and what I have really enjoyed about this – is that we have so many interests outside of what we do. So it also became an opportunity to do all these other things to focus on together: What is spatial design? What can we do with a collaboration? Where can we take this dialogue?
LM:
I think for me it was that I didn't want the translation to be an aesthetic one - I wanted it to be an embodiment of a philosophy, and a way of thinking about art, and a way of being. I genuinely believe that you understood that, and all the decisions along the way have reflected that.
RB:
But now it will go out and live in the world, and we sort of need to let it go and be its own thing. But also, working in fashion is also working in innovation. A lot of my time now goes into working with entrepreneurs or new material developers, and figuring out new business models or new production models, how to commercialize and scale new materials. That's really exciting, because it's also new territory for me. The need for us to understand to produce collections in a more responsible ways, we need to figure out not just how to be more sustainable, but we also need to propose to our consumers and be in constant dialogue with our peers on how we create a better, more responsible industry. So that's something I'm really excited about, because it's new, there's a lot of learning for me, but there's also a lot of opportunity to be in dialogue and to be inspired and to inspire others.
LM:
What's your relationship to artists? I feel like you have this thing with your father, where there's this idea that dedicating your life to poetry can be risky, that you might get caught in a web that is conflicting. What do you feel about people that choose to do that anyway?
RB:
I think that was my fear when I was younger. Now, in my head, there's not a hierarchy about which art is more artistic than the other. So now I feel like I'm in this very privileged and comfortable space where I can connect with artists (and designers and architects and writers and poets and filmmakers), and I think if I were intimidated by artists, it would be difficult for us to have these collaborations, because I would feel that I was coming at it from a more commercial space, a less artistic space. But I think I've found peace now, and I feel very privileged that I have the opportunity to both work on a commercial product and also connect with something that lives in a different world or in a different reality than the one I'm in.
◆